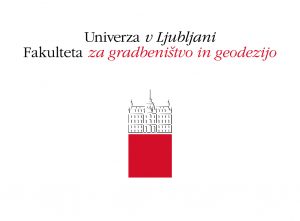 UL FGG, University of Ljubljana, Faculty of Civil Engineering and Geodetic engineering, Slovenia
University of Ljubljana (UL) is the oldest, largest, and internationally best-ranked university in Slovenia, being among the top 500 universities according to the Academic Ranking of World Universities Shanghai ranking (ARWU). The university was founded in 1919 and encompasses 23 faculties, 3 art academies, and 3 associated members.
In terms of the number of students, UL ranks among the largest HEI in Europe with more than 40.000 students. In terms of the number of employees, UL ranks as medium sized HEI and employs approximately 6.000 employees, with more than 3.500 academic staff. Study programmes at UL cover all ISCED areas in the first and second cycle study programmes and leads the way in some new developments in technology and research (cognitive science, nanotechnologies, environmental sciences, biomedicine, etc.).
From 2008 UL is committed to respecting the principles of the European Charter for Researchers and the Code of Conduct for Recruitment of Researchers, which led to the award of the "HR Excellence in Research" in 2013. UL is very active in national and international R&D and educational programmes, and creates almost half of the research results of Slovenia. In last year UL researchers worked in 307 research groups on 168 national research programmes, 403 national research projects with more than 4.252 registered researchers.
MEMBERSHIP – in EUTOPIA, the Guild, CELSA, LERU-CE7, UNICA, Utrecht Network, European University Association (EUA), CEEPUS, Central European Exchange Program, CEI
The Faculty of Civil and Geodetic Engineering (UL FGG) (the beneficiary of the proposed project leader) was one of the constitutional members of the UL. The UL FGG performs educational, research, development, professional and consulting activities in the areas of civil engineering, environmental engineering and geodesy and takes care of the development of these scientific areas. The UL FGG performs undergraduate and postgraduate education by offering study programs from different areas of Civil Engineering, Environmental Engineering and Geodesy. The research performed at the UL FGG has been highly ranked in different research areas, particularly at the research of innovative and traditional materials, in the field of reinforced concrete and masonry wall buildings, precast buildings and bridges, earthquake engineering and numerical analysis of different kinds of civil engineering structures, traffic engineering as well as in the field of building physics. The UL FGG is actively involved in the development of the relevant legislation (European standards) and its application to practice. In last 3 years, UL FGG was involved in more than 40 European projects, including 2 FP7 and 11 HORIZON2020 projects and more than 30 other EU projects.
Research in field of structural fire safety.
Members of Chair of Mechanics at UL FGG (project leader) began to deal with numerical studies of fire engineering problems already in the 1980s. So far they have developed several advanced numerical models for geometrical and material nonlinear mechanical analysis of steel, concrete, timber and composite structures. They also developed heat-mass transfer models which enables analysis of thermal effect in structures made of porous material such as concrete and timber including the charring of timber. Additionally, the insulation criteria of building elements in standard in natural fire conditions can be assessed. The research work of the group is internationally renowned and they have published more than 220 scientific papers in highly ranged journals with impact factor and is highly cited. They regularly lead and participate in national and international projects that among other topics cover also fire safety. So far, they have managed more than 23 domestic and foreign research projects, which means that they also have more years of experience in project management.
With the introduction of the Bologna study program renewal at UL FGG in 2008 Chair of Mechanics introduced new courses in the field of fire safety of structures. At present, three subjects in the field of structural fire safety are being pursued at the first and second level Bologna study at FGG, UL: (i) Fire resistance of structures, (ii) Fire safety and (iii) Fire.